Teacher keeps teaching after her death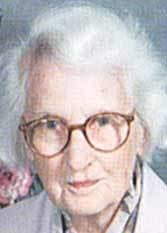 Jean Ogle was a bit of a local legend in Redwood Falls.  You would see her in the Main Street Cotton Shop at a very advanced age, still sharp as a tack and still quilting.   She made beautiful quilts, true works of art.  Jean taught quilting and other arts into the middle of her 90th decade.  Jean was an elementary school teacher in Missouri and here in Redwood Falls for many years.  Jean passed away in 2009 at the age of 97.
Imagine our surprise to receive a check from the InFaith Community Foundation not long after her passing.  Jean had set up a donor advised fund and had designated the Foundation as a beneficiary of grants from this fund.  We feel so blessed that she thought of us and that her generosity much like her beautiful handmade quilts, will be appreciated for a long time.